Traditional Roots
Before coming to New York, the Venegas family were reputable artisans in San Antonio, Ecuador – a town famous for its handicrafts and meticulously carved hardwood sculptures. It was there that the idea to begin working with frames was born, combining the centuries-old carving traditions with modern art and functionality. The idea was a success, and one that developed along with the family. When their son was only a few years old, the family prepared themselves for what would be a life-changing move and journey to one of America's most iconic cities.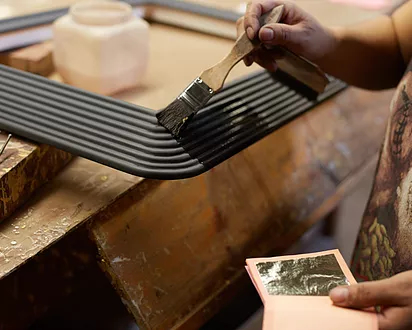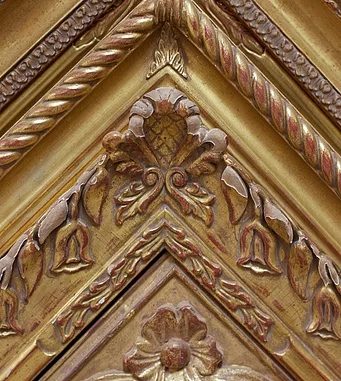 Pursuing an American Dream
After several years of challenging work, the Venegas' set off to create distinctive frames of their own in 1995, officially established CDNV Woodcarving Frames; a boutique frame workshop and showroom in Yonkers, New York. Mr. Venegas specialized in wood-carving which is a form of woodworking resulting in sculptural ornamentation of the frames, (He grew especially fond of the bold, lifelike carvings of the Spanish style frames). Mrs. Venegas an artisan with expertise in Water Gilding, an ancient and traditional method with a very delicate process of applying gold leaf to complex and sculptural surfaces with meticulous attention to detail to mimic 14th century styles. The growing pains of owning and operating a family-owned business in New York affected the family, but they knew that if they could make it here, they could make it anywhere.
Building a Legacy
Coming from a long line of artisans, son David Venegas took on the family role in a different way; as the face and manager with a business degree from Iona College, he infuses fresh ideas, implements bold business plans and encourages continuing art education at CDNV. Over the years, CDNV has blossomed, now with more than 10,000 variety of frames available, and customers ranging in location from West Coast California to East Coast Manhattan, and Canada; the humble frame shop seems to have grown in reputation, variety, and of course – attention to detail. Now a company led by its second generation, CDNV shows no signs of slowing down as the unique carvings, quality, and customer service continue to set them apart.